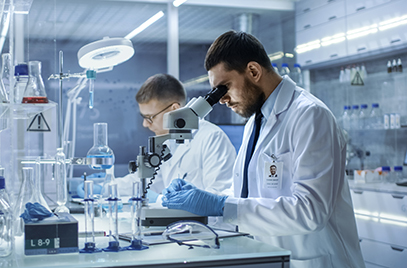 Clinical Research Organizations (CRO)
Our Work With Clinical Research Organizations
CROs from around the globe seek to partner with DCL Pathology as our vision and structure enable working directly or coordinating with other central labs. Delivering results, as promised, is of the utmost importance.
As an independent pathology laboratory specializing in clinical trials, DCL Pathology is uniquely positioned to provide the highest level of service regardless of the contracting arrangement.
We partner with project stakeholders early and often in providing a consultative approach to solving even the most challenging pathology review needs. Our vast experience navigating the pathology component of phase I-IV protocols allows us to make meaningful recommendations that fit into the broader scope of a given study.
Our Work With Pharmaceutical & Biotech Sponsors
The value of DCL's contribution toward the successful execution and completion of studies becomes most evident when sponsors continue to rely on our laboratory team for new studies.
DCL Pathology has become a go-to central anatomic and molecular pathology laboratory partner in most key disease processes and therapeutic areas.
The DCL Pathology team excels at building relationships with our direct clients based on our expertise and high level of responsiveness to their needs. Our direct clients appreciate our ability to create customized processes that are purpose-driven and based on our years of expertise navigating the complexities of anatomic pathology clinical trials.
Our Work With Central Labs
As a laboratory with recognized expertise in both technical and professional histopathology, DCL Pathology is often sought by some of the largest central laboratories in the world for support with our capabilities and capacities in pathology.
Our unique ability to offer seamless integration into a variety of systems and workflows allows our partners to leverage our specialty services to their benefit.
Contact us today to get more information!
10291 N. Meridian Street
Suite 100
Indianapolis, IN 46290